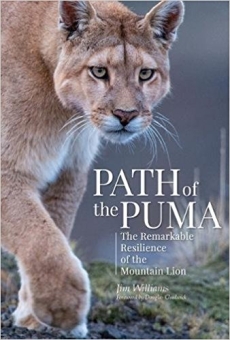 After decades of working with local communities to conserve mountain lions and other large carnivores, wildlife biologist Jim Williams explores how wildlife thrives where conservation, community and culture overlap.

During a time when most wild animals are experiencing decline in the face of development and climate change, the intrepid mountain lion—also known as a puma, a cougar, "ghost cat," and by many other names—has experienced reinvigoration as well as expansion of territory.

"My own experience tells me that Rewilding requires that we rewild our own hearts and minds first, to focus on what and who's gone missing. This book is the story of many who spend their lives seeking answers to these questions and making the complicated, exacting and long-term commitment that honors what they discover." —Kristine M. Tompkins, Founder and President, The Tompkins Foundation

"Wild America - rugged, remote, rich with wildlife. But also highly urbanized, criss-crossed with roads, fences, and towns. Jim Williams brilliantly showcases this contrast of tame and untamed - and the possibility still contained within it - through the eyes of the puma on its journey across the Americas." —Julie Kunen, Vice President of the Americas Program, Wildlife Conservation Society

"This book is a prime example of Jim Williams' dedicated effort to inform and enlighten a broad audience of the ecological and cultural importance of this charismatic apex carnivore." —Maurice Hornocker, Founder/Director, Selway Institute, Inc.




Path of the Puma is now available on Audible, Apple Books, Google Play and Audion Books. The audiobook is wonderfully narrated by the author — Jim Williams.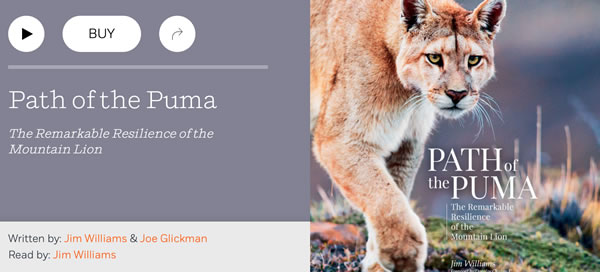 Tune in to Montana Public Radio's show, The Write Question where Wildlife biologist and author, Jim Williams, discusses his book, PATH OF THE PUMA. Jim will also read a short passage from his book:

LISTEN to the full interview with wildlife biologist and author, Jim Williams, on Montana Public Radio's The Write Question as he discusses his book, PATH OF THE PUMA

MTPR.ORG
'Path Of The Puma' With Jim Williams
NEW: MEATEATER PODCAST

Bozeman, MT- Steven Rinella talks with author and wildlife biologist Jim Williams, along with Janis Putelis of the MeatEater crew.
The MeatEater LIVE tour 2019; the sports car of the cat world; overshooting everything; the adventures of Boana Jim; the GI Bill and how it helped spur wildlife management in America; the Florida panther; how a lion kills; lumpers and splitters; meat with feet; how much room does a mountain lion need?; the grizzly bear that didn't den; killing livestock; pumas of South America; and more.
PATH OF THE PUMA author and wildlife biologist, Jim Williams, was on Steven Rinella - MeatEater's Podcast this week. Listen to the podcast now: http://bit.ly/2F3dVSL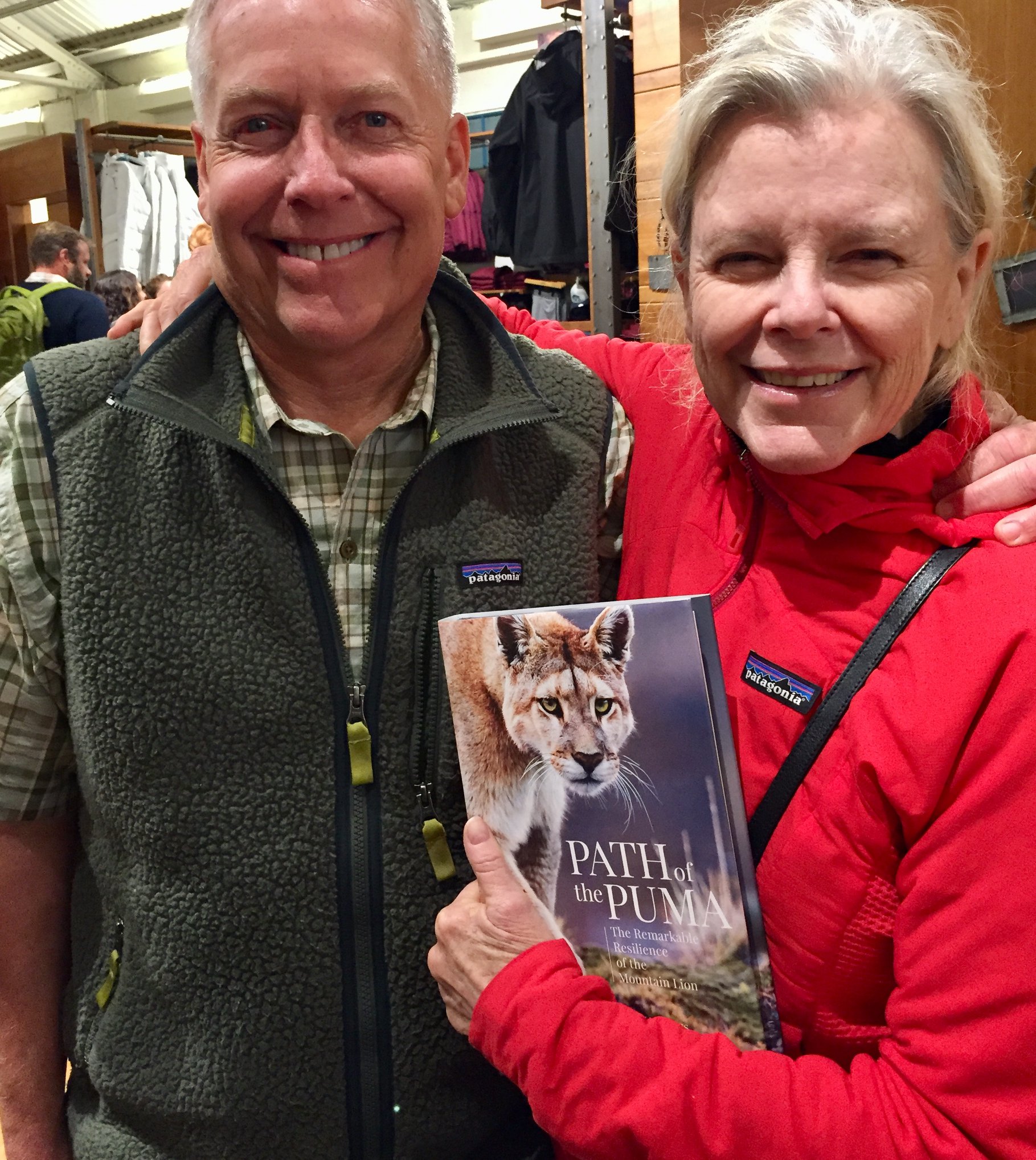 Jim and Kris Tompkins at the Patagonia Books event in San Francisco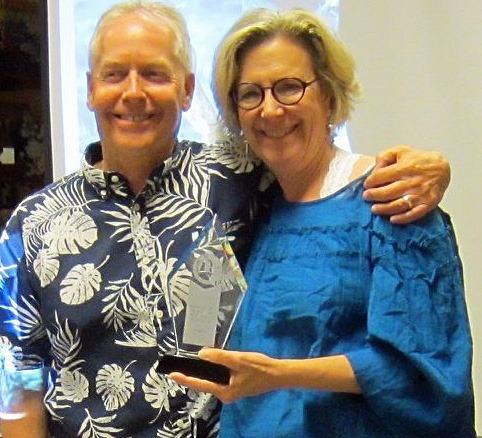 Patagonia Books Director Karla Olson presents the Ben Franklin Book Award to Jim.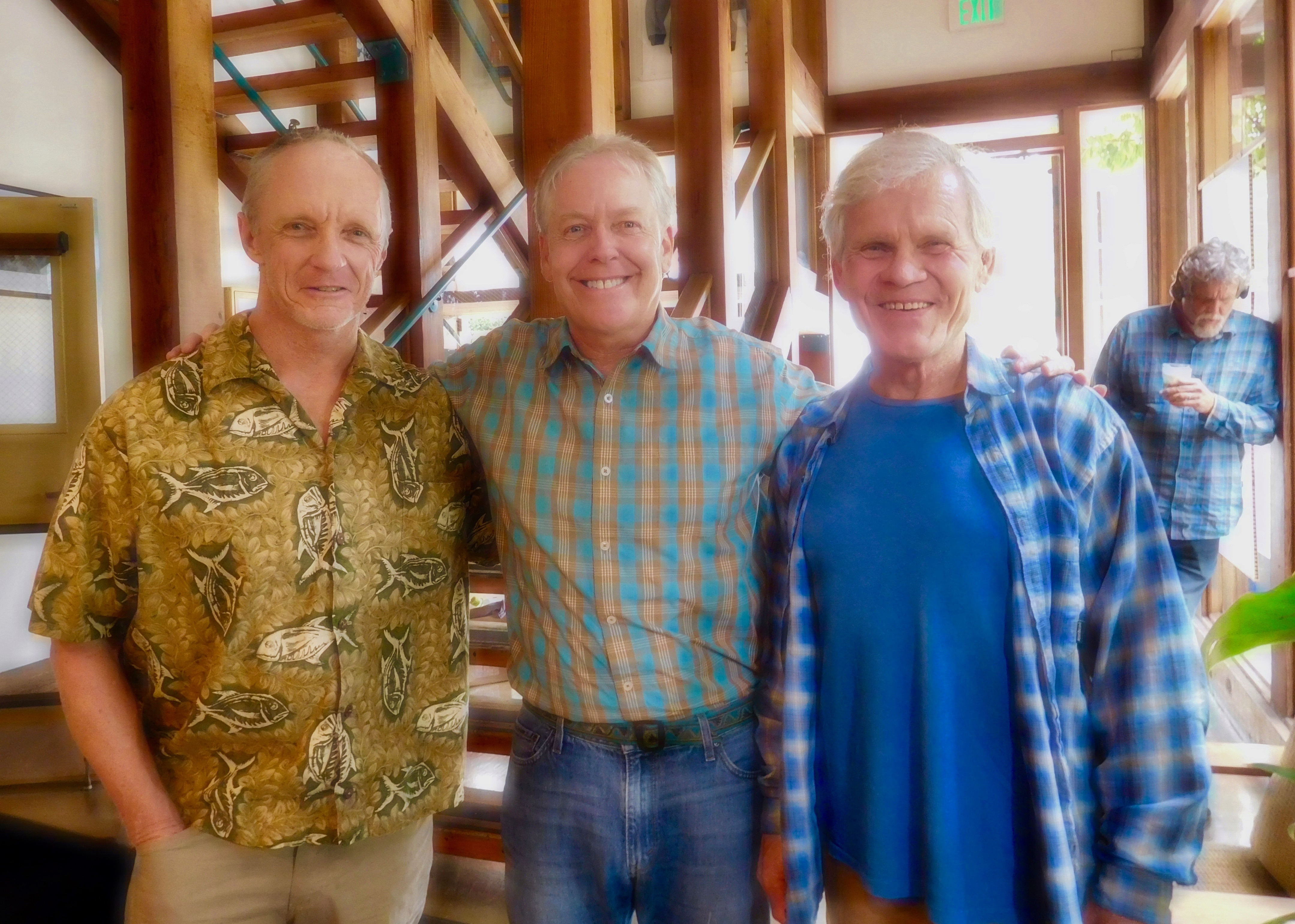 Patagonia Books Chief Editor John Dutton (left), Jim, and world famous explorer and author of a "Life Lived Wild", Rick Ridgeway (right).